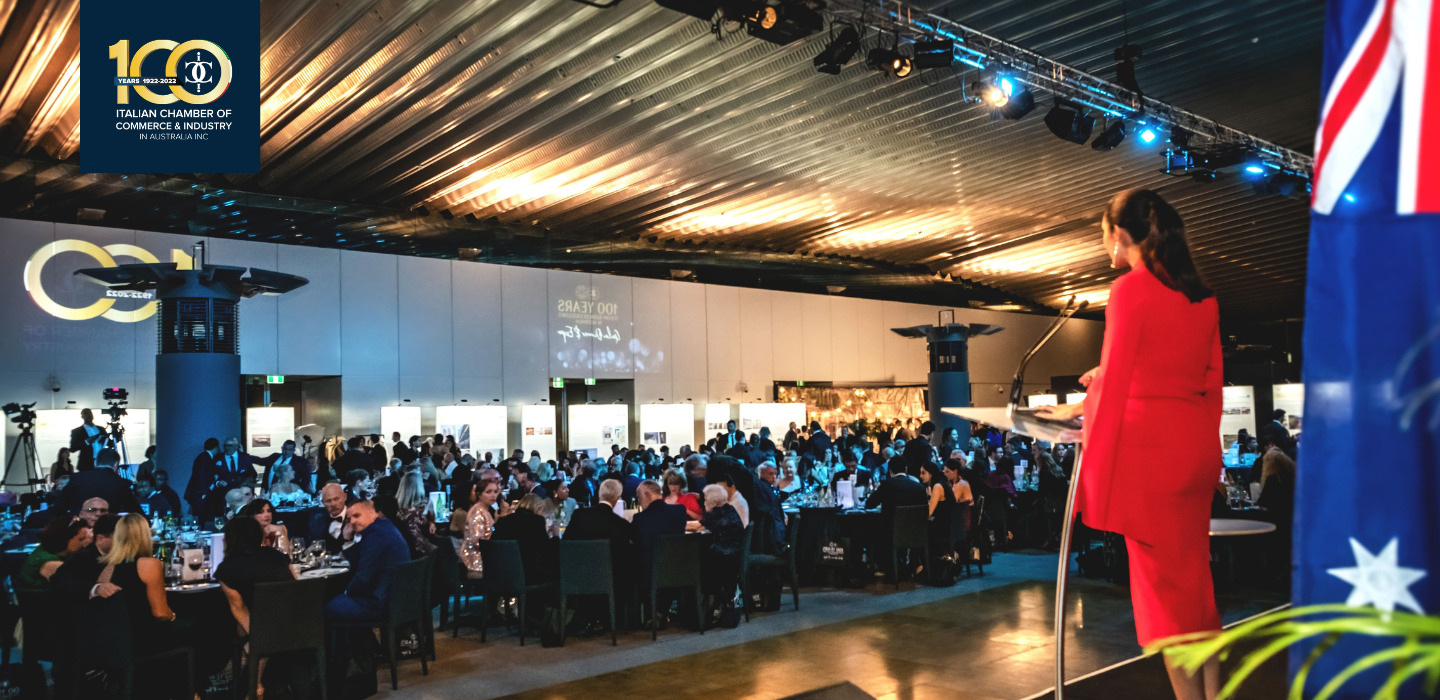 The Italian Chamber of Commerce and Industry in Australia held its 100 years Anniversary Gala & Dinner Expo and announced the ICCIAUS Business Excellence Awards winners.

SYDNEY, November 5, 2022 – The Italian Chamber of Commerce and Industry in Australia (ICCIAUS) held its annual Gala dedicated to Italy's business excellence in Australia, celebrating Italian know-how and Made in Italy as driving and defining forces in Australia's economy.

The Gala, back in full swing after two years of stop since the beginning of the pandemic, marked a 100 years anniversary since the Chamber's foundation in 1922. ICCIAUS is one of the oldest chambers in the world and the first in the Asia Pacific region, this anniversary is a milestone which symbolises the deep commitment and the strong bond between Italy and Australia. 600 guests, media and political and institutional representatives, attended the sold-out event and filled the Sydney White Bay Cruise Terminal for an evening of prestigious awards, thrilling entertainment and brand storytelling.

The evening – presented by TV presenter Janice Petersen – celebrated the institution's past, present and future, collecting and exhibiting the stories of some of the Italian families and companies that operate in Australia, offering thus a fascinating insight on a pillar of Australian modern society: Italian business culture. Kicking off with messages and salutes from H.E. Ambassador Paolo Crudele, NSW Premier Dominic Perrottet, Min.the Hon. Marc Coure, Min the Hon. Victor Dominello, Mr Guy Zangari MP, guests were delighted throughout the entire evening with a stunning ocean view aperitivo, a luxury raffle, free flow of Italian drinks, Italian live music in a jazz key, a ballet performance and an engaging DJ set.
Rachele Grassi, CEO and Secretary General of ICCIAUS, declared ICCIAUS a champion of business excellence, where culture, tradition, cutting-edge innovation and quality-driven agency meet to set new business standards. As per tradition, the event honored some of the Chambers members with the prestigious ICCIAUS Business Excellence Awards, a ceremony that saw the recognition of large, medium and small enterprises category winners and the reveal of the 2022 hall of fame honoree.
Intesa Sanpaolo Sydney branch, opened two years ago, won Large Enterprises category for its activity in local Infrastructure projects, introducing finance structures from Europe not previously seen in Australia.
Operating since 2016 in Australia, Chematek's branch was awarded in the Medium Enterprises category. Achieving ambitious targets over the last few years, the company maintained growth by structuring global teams that spanned between Italy and Australia, pivoted their marketing spend to predominantly online in a customer centred approach. Marana Forni was selected for the Small Enterprises category for their strategic approach to the Australian market that saw an investment in a 360° service, focusing on its curated selection of premium brands and quality products for the hospitality sector gathering a small but highly specialised team. This year Gala also saw the induction of Ms. Luisa Perugini in ICCIAUS Hall of Fame for her active role in the Italian community. A skilled and accomplished journalist, Luisa Perugini gave voice to all the Italians in Sydney and Australia, building a deep connection for Italian expats with their motherland, and for second and third generations of Italians with their origins. Fabio Grassia, President of ICCIAUS, said, "Winners and nominees for each of these categories have significantly contributed to the Italian community across Australia through their work and inspirational leadership, and it's an honour and a pleasure to recognise and celebrate their contribution is such a significant setting."
On top of it all, ICCIAUS Gala Dinner & Expo 2022 was Carbon Neutral. CO2 emissions were offset with projects certified by the highest international standards through a B Certified partner. The Chamber wants also to thank its valued and esteemed event partners, among which platinum sponsors Enel Green Power and GRAAF Group, which made possible to host such an exceptional evening.

Partners of the evening:
PLATINUM: Enel Green Power, GRAAF Group.
GOLD: Club Marconi, De'Longhi, Ducati Motor Holding, Intesa Sanpaolo, Il Globo, Lendlease, Mondiale VGL, Pirelli Tyres Australia, PreGel, Consorzio di Tutela della DOC Prosecco, Prysmian Group, Qantas, Webuild.
SILVER: Alfagomma Group, Arneg Oceania, Campari Group, Chematek, Ferrari, Gruppo Sanpellegrino, EssilorLuxottica, illycaffè, La Molisana, Maserati, McCarroll's Maserati Sydney & Artarmon, Max Mara Fashion Group, Mazars in Australia, MERMEC, Mutti Australia, Savino Del Bene, Smeg Australia, Technogym.
BRONZE: D.C Consulting & Management, CoAsIt, DiaSorin, Euroluce Lighting Australia, Ferrero, Gucci
Australia, Panerai, Scm Group.
PRODUCT: Federazione Italiana Cuochi, Disaronno, Inalca, Montecoppe, Mayers, TheStandardWine &C.