Viano Corporation Pty Ltd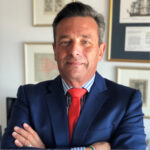 Fabio Grassia founded his first company in 1989, Natcomp Technology Australia Pty Ltd, an importer and distributor of IT hardware and consumer electronic products supplying mass retailers and computer stores throughout Australia and New Zealand.
In 2007 following a market demand for good quality yet affordable digital TVs for the modern household, Grassia created the consumer brand Viano.
Grassia expanded investments in China by opening an office in Shenzhen with a joint venture in manufacturing flat panel digital televisions. The factory is now manufacturing televisions for the Australian and New Zealand markets under the Viano brand and OEM.
In 2014, the company commenced with new markets in the Middle East, Europe and South America.Grassia previously served on the ICCI board in 1998 and from 1999-2000 he was a Board Member and part of the Social Committee. From 2001-2003 he served as Vice-President on the board, whilst also a member of the Constitutional Committee. In 2019 he was named as President of the Chamber.